"Enhanced Digital Paintings"
by
Robert Boyd
Digital designs modified with paint and glazes
(When viewing web pages on a black background in "Internet Explorer", choose "View" -- "Full Screen", or Press F11)
Colors in actual paintings may vary from colors you see on your browser
For the examples below, dimensions vary, framing and matting varies, price varies,
however most are printed on 8.5" by 11" paper and may be cropped smaller.
All are framed and matted under glass.

Click on an image to enlarge
Below are more examples (no enlargements)
"Taking the process to the next step I assembled several pieces into a mosaic."
(Click to enlarge)

MMM 1
"Then I bought a new printer so I could print larger images."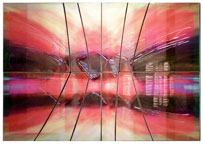 MMM 7

MMM-Triptych-1
Digital Paintings Enhanced Digital Paintings Digital Photographs
About the Artist, and Contact Info Home Business Card Design